Mechanical & Construction materials segment supplies Water heaters, Pumps, air separators, Copper pipes, Fittings, & accessories (Plumbing and Medical), Seamless & ERW pipes, PPR & drainage pipes, Fittings, & accessories, Roof & pipes supports, access panels, hatches, ladders, Permanent & Temporary Suspended Access, Building Maintenance Units and many other construction materials.
Our Partners
OBO-BETTERMANN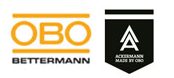 Cable Containment Systems and Underfloor Systems
OBO BETTERMANN is one of the leading manufacturers of installation systems for the electrical infrastructure of buildings and systems.
FITZGERALD

Light Fixtures (All Types)
Fitzgerald Lighting has been at the forefront of lighting since the 1970's, when the factory first started producing light fittings. As such Luminaires are still designed and made at the original factory in Cornwall, UK.
Fitzgerald offer a comprehensive range of professional, commercial and industrial luminaires incorporating the latest lamp and LED technologies as Fitzgerald offer both fluorescent and LED light fittings.
Product application is typically commercial, industrial, offices, warehouses, factories, schools, hospitals, sports facilities and premium domestic installations.
Fitzgerald consistently invests in the most modern tooling and manufacturing techniques. This together with the focus on quality assurance (ISO 9001:2008 certified) and lean manufacturing systems have assured their continued reputation in the market for quality, reliability, and ease of installation.
All products are manufactured in the UK to the requirements of BS EN60-598 and are CE-marked.
Fitzgerald has for many years and continues to export light fittings into the Middle East. Fitzgerald has significant markets in Kuwait, Oman, Bahrain, UAE and Qatar.
DIALIGHT

MARSHALL-TUFFLEX

L&T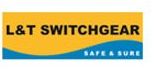 ELLIS

MLE

LAWSON

Fuses, Fuse Links, etc.
Lawson Fuses Ltd was founded in 1938 and specialises in the design, development and manufacture of low voltage HRC fuse-links and fuse-holders.