MANNAI HVAC SERVICES
Mannai HVAC Maintenance services provides a predictive and preventive maintenance programs, inspect system components periodically and enable you to identify mechanical failures before they lead to breakdowns, lower operative costs, maximize equipment life and safeguard your investment. Our team extends prompt technical support and guidance, system training, BMS operations, and provides genuine replacement spares at a competitive cost. Additionally, a checklist is available for various operations of HVAC equipment, district cooling and screw chillers, etc.
Regular maintenance contracts
One-off visits for maintenance, repair or diagnostic services
24 hour call-out service for contract customers
Preventative maintenance contracts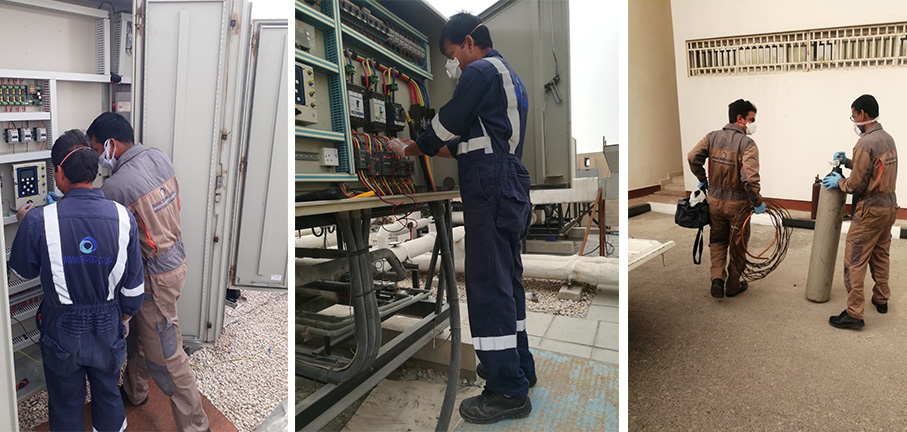 WHY IS IT IMPORTANT TO SERVICE YOUR AIR CONDITIONING AND REFRIGERATION SYSTEM?
All air conditioning and refrigeration systems, like any other machine, depreciate with time. And if not properly maintained, they progressively lose efficiency, consume more power, and drain your profits.
Without regular maintenance an air conditioner loses its original efficiency steadily every passing year. It is common knowledge that these inefficiencies accelerate in the absence of adequate monitoring and maintenance, thereby causing a lot of inconvenience.
The good news however, is that you can recover most of that lost efficiency through regular maintenance. Studies show that with regular tune-ups a unit will maintain up to 95% of its original efficiency. This means that the cost of a periodic tune-up is recovered very quickly in savings on your monthly power bill and reduced running and repair costs. 
WHY MANNAI HVAC SERVICE?
Mannai HVAC Service, Qatar's largest air conditioning and commercial refrigeration company, has been providing expert cooling solutions for over seven decades. Mannai HVAC Service provides you with the finest and most comprehensive range of services to take care of your air conditioning system. With our experience and expertise, we optimize your system and ensure maximum energy efficiency, perfect air distribution and superior indoor air quality.
Very often, customers tend to believe that maintaining air conditioning systems needs no great expertise, and in case of a breakdown, any local AC repair technician can repair it. But while local technicians might be an easy option, they don't have the kind of extensive knowledge required on the science of cooling. They lack adequate understanding of indoor air quality, airside management and energy efficiency. Neither do they know the designs and circuits well enough for them to optimize your system periodically, nor do they have the infrastructure and resources necessary to handle your system, in case of further eventualities. In fact, relying on them can only cause inconvenience, apart from potential loss of business and productivity. On the other hand, Mannai HVAC Service's experts and customer focused professionals periodically check your entire system, repair and replace the necessary parts and calibrate the system for perfect air distribution and balancing.
Mannai HVAC Service has the largest pool of qualified and trained air conditioning and refrigeration engineers. The Company has a wide network of channel partners all over Qatar and across the globe to meet customer requirements. We understand the geography and have complete knowledge of the application and customer profiles.
On opting for a Service Solution from Mannai HVAC Service, you avail of the following unbeatable advantages:
DIGITAL COMPLAINT LOGGING & RESOLUTION:
Leveraging on technology available, Mannai HVAC Service has connected its large technician work force using apps to ensure that complaints are taken care of and closed in time. The integration of customer call center and app makes sure that technicians can receive the tickets, schedule appointments with the customers, and close complaints using the app even while on the move.
REMOTE MONITORING SERVICES:
Remote monitoring service by Mannai HVAC Service ensures that your HVAC is monitored 24×7. With the help of various meters installed at site and the state-of-the-art remote monitoring center at our service HO, we are able to keep a record of the number of hours the equipment has worked, the energy consumed by the critical parts of the equipment, etc. Based on the data acquired, we can predict the complaints that might arise due to both normal and abnormal functioning of the equipment. This also helps us share insights with the customer on how to improve operating conditions on the premises.
our engineers and technicians are intensively trained to handle the costly, sophisticated air conditioning equipment.
All customers who opt for our annual service solutions are offered priority service, so that your calls get attended quicker and the system is up faster.
Under all our service solutions, we offer preventive maintenance checks which help in identifying problems early, preventing costly downtime.
By opting for our service solution, you are assured of genuine spares that will go a long way in ensuring high uptime for your system.
Genuine spares and regular maintenance help in extending the life of your system.
In summer, you would prefer lower temperatures and when the climate is cold you often feel the need to change your settings to higher temperatures. Before the season changes, our engineers calibrate the air conditioning system to suit typical requirements.
The presence of regional parts centers in various cities ensures faster availability of service parts.
The van assists in delivering spares and service crew at your door step, in case of emergency.
Service Specialists Group handles complex technical problems in the field through remote supervision or direct supervision from all areas. The team is well equipped with various advanced measuring, data logging and diagnostic tools.
Service Quality Assurance group is in place for benchmarking the best practices in other service industries, and developing and implementing service delivery standards in conformity with the same.
The Service division team is trained and certified by manufacturers to operate on different HVAC equipment.
EHS team monitoring ensures safety practices followed at site.
24×7call center: Call 33858034 or 44558788 or mail to HVACservice@mannai.com.qa
Call logging benefits: Online call status monitoring by branch service manager and timely closure of calls. Service history report for analysis and improvement
So, protecting your expensive and technologically advanced air conditioning equipment from damage is as important as your initial investment. And we, at Mannai HVAC Service, help you do that. Our air conditioning experts periodically check your entire system, repair and replace the necessary parts and calibrate the system for perfect air distribution and balancing. Thus providing you with the finest and most comprehensive range of Service Solutions.
Optimize the performance of your Air-conditioning equipment with MANNAI HVAC SERVICE.